First Time Customer?
Enter your email address below to join the ActivatedYou™ Newsletter and receive an exclusive first time customer offer.
All of the food you eat brings a story to the table. Green beans are no exception. These tiny green marvels aren't just packed full of tastiness. They also have a long history filled with lots of fun facts. Read on to learn some interesting green bean facts and how...
read more
All of the food you eat brings a story to the table. Green beans are no exception. These tiny green marvels aren't just packed full of tastiness. They also have a long history filled with lots of fun facts. Read on to learn some interesting green bean facts and how...
read more
Are you juice-curious but not sure where to start? Juicing fruits and vegetables can seem like a complicated ordeal. Which fruits and veggies should you use, and how the heck do you make it taste good? Grab some inspiration from these simple juice recipes that are...
read more
Figuring out how to choose a yoga mat? If you're serious about your yoga practice, investing in your own mat is certainly a step in the right direction. But as you'll soon find that as you search for yoga mats in stores and online, it seems that not all mats are...
read more
The best thing about vegan dessert recipes is that they're not only delicious, they're also incredibly easy to make. Vegans and non-vegans alike will love them – and they'll also be eating healthy in the process. Even better, you have a lot more options than you might...
read more
Most of us know that physical fitness is good for us. We read about the positive effects of exercise all of the time. We feel much better when we do it. But even with that knowledge and first-hand experience, it can be difficult to find the motivation. The most common...
read more
Curious about kimchi health benefits? It seems there could be more to this tasty classic Korean dish than its signature smoky and spicy flavor, which admittedly can be a bit of an acquired taste. Learning more about the potential benefits of kimchi could make you a...
read more
Bloat, flatulence, cramps, bowel movement irregularity, abdominal pain — Americans know digestive troubles all too well, with up to 70 million dealing with disorders related to their gut.1 The function of your gastrointestinal (GI) tract — to absorb nutrients and...
read more
If you're vegan or vegetarian, you've probably been asked time and time again "What are you going to do for protein?" The reason being is that many people are unaware that plant-based protein exists. The truth is, many plant-based foods can provide excellent protein...
read more
Whether you're planning to start a new workout routine or you're a seasoned gym-goer, having the right gear can make all of the difference. Owning a unique gym bag that's organized with all of the essentials can help give you that last push you need to get out of the...
read more
You start out by dreaming of it. Then you decide to book your ticket. And until you leave, all you can think about is how wonderful it will be to escape and finally unwind. But, sometimes vacationing can come with certain challenges – especially if you have dietary...
read more
Wondering if meal prep is worth the extra effort? It just might be. Once you look beyond all the colorful quinoa bowls and salads in mason jars posted on social media, you'll realize that meal prepping is more than trendy. It's quite a nifty life hack. If you're short...
read more
Since the early days of gym class, you're taught the importance of exercise. But, how often do you hear about the importance of rest and recovery after you exercise? Chances are, not that often. However, rest and recovery after strenuous training can be just as...
read more
Whipping up some vegan Valentine's chocolate can help make sure that no one, regardless of chosen diet or lifestyle, misses out on one of the most romantic holidays of the year. And while there are lots of ready-made vegan treats you can purchase, there's something...
read more
Looking for a 30 day wellness challenge to help you create good habits? By making one tiny change per day, you can overhaul your life. What Is Wellness? Maybe you've tried a 30 day fitness challenge or a mental health challenge before, but you're unfamiliar with...
read more
While walking can be described as moving one leg in front of the other, optimal walking posture involves a bit more than that. From how you hold your head to how you roll your feet can determine if you are activating or releasing the correct muscles and putting...
read more
Yoga has been practiced for centuries, and along with it is the practice of controlling the breath or pranayama. With prana translating to "life force" and ayama to "extension" from Sanskrit.1 However, even though the breath is a vital part of yoga, it is something...
read more
Figuring out what to do on rest days is just as important as nailing a solid workout routine. In fact, planning your rest days should be a considerable part of creating an exercise plan that works for you. This is because contrary to what you may think, taking the...
read more
Do you love to dance? Dance is not only fun, but it's a great way to stay in shape. If you don't like to exercise or take fitness classes, dancing can be an excellent physical activity that doesn't feel like a workout. Many find it much more fun than more traditional...
read more
If you follow a plant-based diet, you may be wondering what you should eat as workout fuel. After all, don't typical bodybuilders consume plates full of red meat and raw eggs? Is it possible for vegans to get enough protein to build muscle? Of course, they can. It's...
read more
2019 was a big year full of wonderful health tips, striving to be better, and learning new lessons about wellness practices that are right for you. Now that it's the new year, wouldn't it be great if there was a way to go back and revisit the top blogs of last year as...
read more
You know that exercise is essential for optimal health, but did you know that it might directly benefit your gastrointestinal tract? It turns out that regular physical activity and certain exercises might support your health and well-being in ways you might not have...
read more
Traveling can be a blast (or a hassle), but there's nothing worse than being far from home and feeling unwell. And because train stations, buses, and planes are filled with all kinds of people in various states of health, it's best to protect yourself with healthy...
read more
While many consider eating out a fun treat, others may find it a bit stressful when trying to stick to their healthy eating plan. But fear not, below is a set of healthy dining out options that make it easy to navigate the most common diet pitfalls restaurants present...
read more
Vegetables and fruits that last long in proper storage sure can help keep you on track when you're trying to eat cleaner and healthier. Plus, it's just good sense when looking at it from a food waste and spoilage perspective: Americans waste about 150,000 tons of food...
read more
Do you ever find it difficult to motivate the whole family to get up and moving? It can be tempting to spend the day watching movies on the couch, but exercise is important. On top of that, exercising as a family can be tons of fun! Continue reading for some...
read more
If waking up early in the morning is a chore, you're in good company. Plenty of people have problems getting up after a good night's sleep (or certainly a bad one). It can be hard to get out of bed, so you keep hitting the snooze button on your alarm clock. If you...
read more
There are many ways to use apple cider vinegar (ACV). You might have heard that it may help with a sore throat, weight loss, bad breath, and more. Or, maybe you've heard that ACV can revitalize skin or be used as a cleaning product.1 Do the results justify the hype?...
read more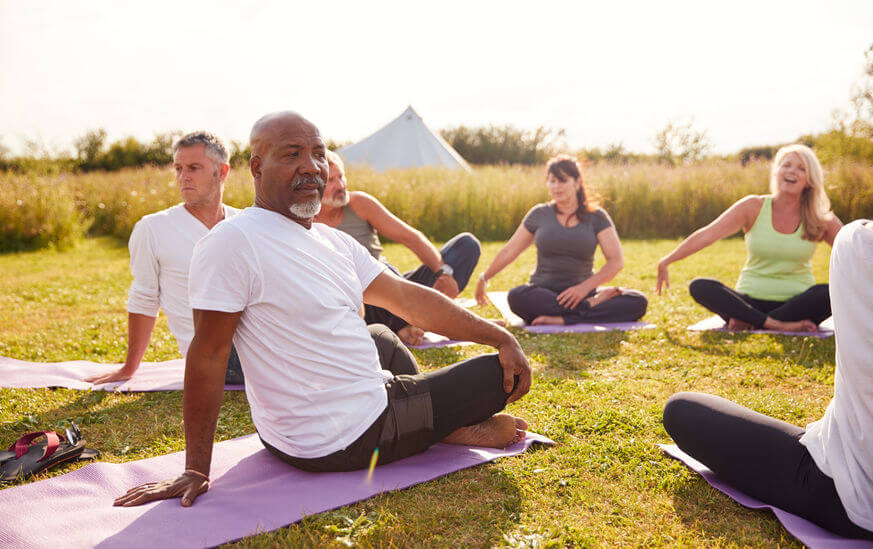 There are many yoga poses that involve some sort of rotation, or twisting. They work the spine, hips, and muscles, and can also give your arms quite a workout. But are there other benefits to these yoga postures? Here's a look at what the evidence says. These poses...
read more
Want to wake up refreshed and go to sleep relaxed? You may just need a little more meditative movement in your life. A daily stretching routine has been shown to not only help improve circulation, but calm the mind.1,2 Try these five morning stretches and five night...
read more
There are a few misconceptions regarding a plant-based diet that can easily be disproved with a little research. You'll find that a plant-based diet is something that many healthy and happy people enjoy. Let's look at a few of the myths surrounding this diet and what...
read more