First Time Customer? Enter your email address to join the ActivatedYou® Newsletter and receive an exclusive first time customer offer.
ActivatedYou Blogs
Latest in Nutrition
Can you meditate lying down? It's a valid question. After all, many people associate the act of meditation with a seated position. This is the most common posture for meditation. But, this doesn't necessarily mean that your meditation practice will suffer if you...
read more
Can you meditate lying down? It's a valid question. After all, many people associate the act of meditation with a seated position. This is the most common posture for meditation. But, this doesn't necessarily mean that your meditation practice will suffer if you...
read more
Spiritual meditation can help you connect more deeply with the most important being in your life: a divine power, or even a higher version of your own self. Of all the forms of meditation, this type really allows you to delve deeper into your thoughts and emotions,...
read more
Movement meditation might seem like an oxymoron at first. After all, meditation conjures images of perfect stillness and tranquility. But, incorporating movement could potentially make your meditation experience more enriching. Or, if you're a seasoned meditation...
read more
Meditation can be a healthy activity with an assortment of physical and mental benefits. But, there are many different types of meditation which focus on different parts of the body. Some styles of meditation may be better suited for different health goals. Learn...
read more
Turn your next vegan nacho night into a low-carb, healthy experience by making a tasty tray of cauliflower nachos. Vegan cauliflower nacho recipes swap out deep-fried tortilla chips for roasted cauliflower, and cheddar cheese for vegan cheese. This healthy...
read more
Traditional cream of broccoli soup transforms big heads of broccoli into a smooth, delicious soup. But, all the butter, heavy cream, and milk in a standard broccoli soup means this classic dish is off the table for vegan dieters. Or is it? Fortunately, you can make a...
read more
A good tomato basil soup recipe is always welcome as a part of your healthy meal rotation. Vegetable soups like this one help round out a meal as a side dish. They can also be dressed up into an impressive main course with the right additions (like by adding pasta...
read more
Learn how to make cauliflower rice and discover a potentially healthier alternative to other starchy grains. Cauliflower is rich in vitamins and minerals. It's also a good source of fiber and it's pretty low in calories, too.1 The many potential health benefits...
read more
Looking for better and more inventive ways to relax? Research shows that plenty of people, of all ages and demographics, are experiencing more stress in their daily lives.1 It's easy to feel helpless when you're faced with a lot of stress. But one thing you can...
read more
Running meditation seems like quite the paradox at first glance. After all, meditation seems to embody the very concept of stillness. And as all runners know, you're anything but still when you hit the trail. But supplementing your runs with meditation could be...
read more
How often should you do yoga before you see and feel any results? It all depends on what you perceive to be "results" — and what specific goals you've set for yourself as part of your yoga practice. Don't be disheartened by this less-than-straightforward answer. This...
read more
Should you stretch before running? The short answer is yes, always. But how to stretch properly before heading out is key. Sports science and research on the importance and impact of stretching is constantly evolving, and runners need to stay on top of vital and...
read more
A holiday feast wouldn't be complete without all the side dishes and trimmings, so it's always a good idea to have a foolproof cranberry sauce recipe in your back pocket. Learn how to make cranberry sauce this holiday season rather than opening a can of the ready-made...
read more
Have you ever wanted to spruce up your patio or garden? If so, you'll want to start with the best outdoor plants. Not only do these plant varieties add a welcoming touch of nature to your living or recreational spaces, but they're also a breeze and a joy to care for...
read more
As chilly weather settles in and the holidays approach, you need a delightful parsnip soup recipe in your arsenal of cozy comfort food recipes. Easy enough to be whipped up on busy weeknights but festive enough to be a tasty starter or side come Thanksgiving or...
read more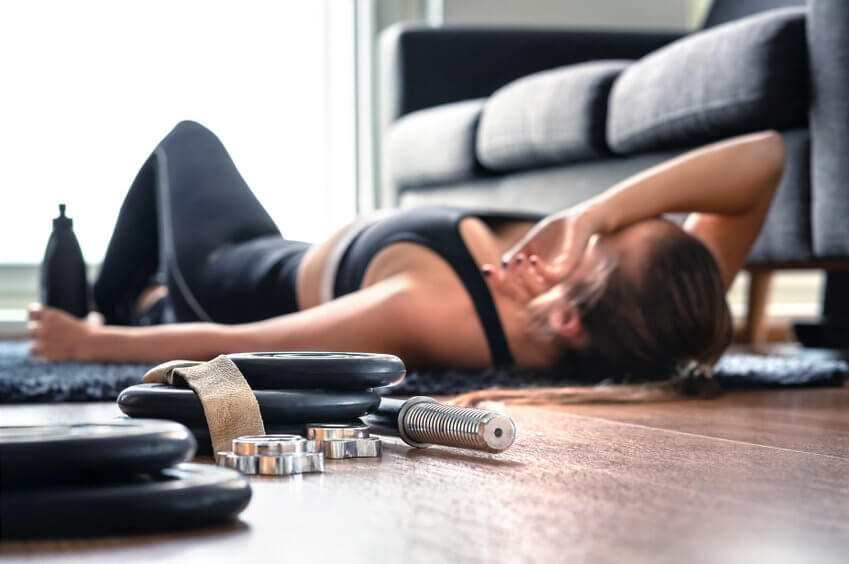 Why is it often easier to start a fitness program than it is to maintain one? Whether your fitness goals involve meeting weight loss goals or just increasing physical activity, the struggle is often the same — maintaining motivation and consistency. It's an experience...
read more
If you've been struggling to squeeze more physical activity into your daily routine, these easy before bed exercises can help you stretch out and tone your muscles. You may think that your comfy and cozy bed is counterintuitive to getting a good workout, but in fact,...
read more
It's a well-known workout rule that you should never skip leg day, and these inner thigh exercises are sure to spice up your routine and contribute to lean, strong thigh muscles. All of these moves are simple enough for beginners but effective in helping blast fat and...
read more
Knowing a few easy exercises to do at home can help support your health and fitness levels. Let's face it: sometimes, it's just easier to get in a daily workout without heading to a gym. Master these moves, and work out in the comfort of your own home. Read on to...
read more
The many potential holistic benefits of yoga are likely a big reason why its practice has persisted for millennia. The practice of yoga involves breathing exercises and postures perfected by centuries of scholarly study and practice around the world. Yoga...
read more
Did you know that there are several so-thought "vegetables" that are fruits? In fact, you might be surprised at how many of them might be in your pantry or fridge right now. While knowing the correct classification might not really impact your fruit and vegetable...
read more
When Hippocrates famously said that "Food is medicine," he may well have been referring to the many potential health benefits of eating vegetables. Eating a wide variety of veggies is part of any healthy diet, as they contribute much-needed vitamins and minerals to...
read more
Americans are increasingly embracing clean eating. And clean eating is not a diet so much as a healthy lifestyle approach to whole and natural foods and how you prepare them.1,2 So, what is clean eating — and why is it healthy? What Does It Mean To Eat Healthy?...
read more
Wondering how to eat more vegetables? Eating more vegetables is an important health goal to commit to, so read on to learn more about how to eat more veggies almost effortlessly.
read more
The potential benefits of drinking hot water are many. Learn how drinking hot or warm water may help support your health.
read more
Frozen vegetables are a good and practical way to stay healthy. You don't even have to grab your frozen veggies from the grocery — learn how to freeze vegetables yourself in just four simple steps.
read more
Once you get to know more about the varied potential benefits of Pilates, you'll wonder why you didn't start sooner. While a lithe body and killer abs might seem like the key Pilates benefits, this form of exercise can greatly impact everything from how you move to...
read more
What is Ashtanga yoga? For newbie and seasoned yogis alike, the answer could be the same: this style of yoga is the challenge your mind and body need to take your yoga practice and your overall health and wellness journey to the next level. Read on to learn more about...
read more
It's a scenario you've surely encountered at least once: you're sitting and trying to focus, but your thoughts are drifting. You wonder, "How long should I meditate, anyway?" Whether it's borne of boredom or genuine curiosity, knowing how much meditation per day you...
read more
Thinking about how to clean a yoga mat? Read this article for simple tips on cleaning a yoga mat safely. Taking a few minutes to care for your yoga mat is worth it.
read more