It's the sweet days of summer, and the flowers are in bloom. There is no better time to experiment with a new salad idea than summertime. Here are some summer salad ideas to help make unique summer salad recipes. With so many seasonal options available this time of year, you really can't go wrong. Make potato salad, pasta salad, cucumber salad, fruit salad, and more. Read on to discover some delicious salad recipes that you'll be able to enjoy all season long.
Benefits Of Eating A Healthy Summer Salad
Eating salads and raw vegetables is an effective way to increase consumption of nutrients. Studies have shown that people who eat salads tend to have higher intakes of vitamins C and E, folic acid, and carotenoids.1
Summertime brings a wide variety of produce such as romaine lettuce, green leaf lettuce, spinach, and bell pepper. The ubiquitous romaine lettuce, in particular, is one of the most nutrient-dense vegetables, ranking just behind spinach and leaf lettuce – and above kale.2
You're probably familiar with the traditional green salad: a combination of lettuce and tomato topped with a basic salad dressing. You might also be able to get mixed greens, if you're lucky.
However, this salad has also become a bit clichéd. Time to mix things up a bit.
Healthy Summer Salads: Seasonal Veggies, Fresh Herbs, And More
Fortunately, there are so many exciting and lively summer salad recipes to make using seasonal vegetables like cucumbers, red onions, spinach, tomatoes, and others. These include cucumber salad and tomato salad. Other tasty examples include broccoli salad, corn salad, spinach salad, and bean salad.
Cucumber Salad
This salad is both simple to make and refreshing to eat.
Ingredients (Vegetables):
2 cups grape tomatoes, sliced in half
1 English cucumber, thinly sliced
1/2 medium red onion, thinly sliced
Ingredients (Dressing):
1/2 cup olive oil
1/4 cup balsamic vinegar
1 Tbsp fresh-squeezed lemon juice
½ tsp sugar (or sugar substitute, like stevia)
1 tsp Italian seasoning
1 Tbsp minced garlic
1 tsp kosher salt
1/2 tsp cracked black pepper3
Instructions:
Add tomato slices, cucumbers, and onions into a large bowl and set aside.
In a small bowl, combine olive oil, vinegar, lemon juice, stevia, Italian seasoning, garlic, salt, and pepper. Blend until well mixed.
Pour salad dressing over tomatoes, cucumbers, and onions.
Toss salad.
Serve. Store leftovers in the refrigerator, covered, for up to 2 days.
Tomato Salad
Tomatoes are bountiful during the summer, and this salad takes advantage of that bounty. With so many tomato varieties, you can mix and match with everything from grape tomatoes to orange, yellow, green, and striped heirloom types.
Ingredients (Salad):
1 cup of tomatoes
¼ cup fresh spinach, washed and dried
2 slices avocado
Ingredients (Balsamic Vinaigrette):
3 Tbsp extra-virgin olive oil
2 Tbsp balsamic vinegar
2 garlic cloves, minced
1 tsp fresh oregano (you can substitute 1/2 tsp dried oregano)
1 tsp fresh basil, chopped, or 1/2 teaspoon dried basil (optional)
Salt and black pepper (to taste)4
Instructions:
Slice the tomatoes to remove the seeds.
If using large tomatoes, chop into ½-inch pieces. For smaller tomatoes, slice in half so they can take on the flavors of the dressing.
Put the chopped tomato, spinach, and avocado in a large serving bowl.
For the dressing, grab a smaller bowl and add the olive oil, vinegar, garlic, and herbs. Mix well.
Combine dressing with salad.
Serve.
Potato Salad And Pasta Salad Recipe: It's All Summer Fun
Salads are much more than lettuce and tomato; they can also contain starchy carbohydrates such as potatoes and pasta. These are usually more of an entrée than an appetizer.
Potato Salad
You're surely familiar with white and yellow potatoes. But there are dozens of distinct varieties, with properties ranging from starchy to waxy, fluffy, moist, and dry.5 Fingerlings work particularly well in this recipe: They're small enough to bake whole, which preserves the moisture.
Ingredients (Salad):
1 lb baby potatoes or fingerlings
Pinch of sea salt and freshly ground black pepper
½ Tbsp apple cider vinegar
½ cup scallions, diced
2 Tbsp fresh chopped cilantro
Ingredients (Vinaigrette):
1¼ Tbsp mustard
1½ cloves fresh garlic, minced
⅛ tsp sea salt
⅛ tsp freshly ground black pepper (or to taste)
1½ Tbsp red wine vinegar
½ Tbsp apple cider vinegar
1½ Tbsp extra virgin olive oil
2 Tbsp chopped fresh dill6
Instructions:
Slice potatoes into ¼-inch-thick wedges. Ådd potatoes to a saucepan, bring to a boil, and cook for 10-15 minutes. Add a dash of salt for flavor.
Drain the cooking water and rinse the potatoes with cool water. Add to a serving bowl and season with salt, pepper, and a little vinegar.
Toss in the scallions and cilantro.
For the dressing, add all the ingredients except the oil and the dill into a small bowl and whisk well to combine.
Slowly drizzle in the olive oil, whisking to create an emulsion. Then add the dill.
Pour the dressing onto the mixture. Mix well.
Let the flavors soak in before serving – or leave in the refrigerator for a couple of hours.
Pasta Salad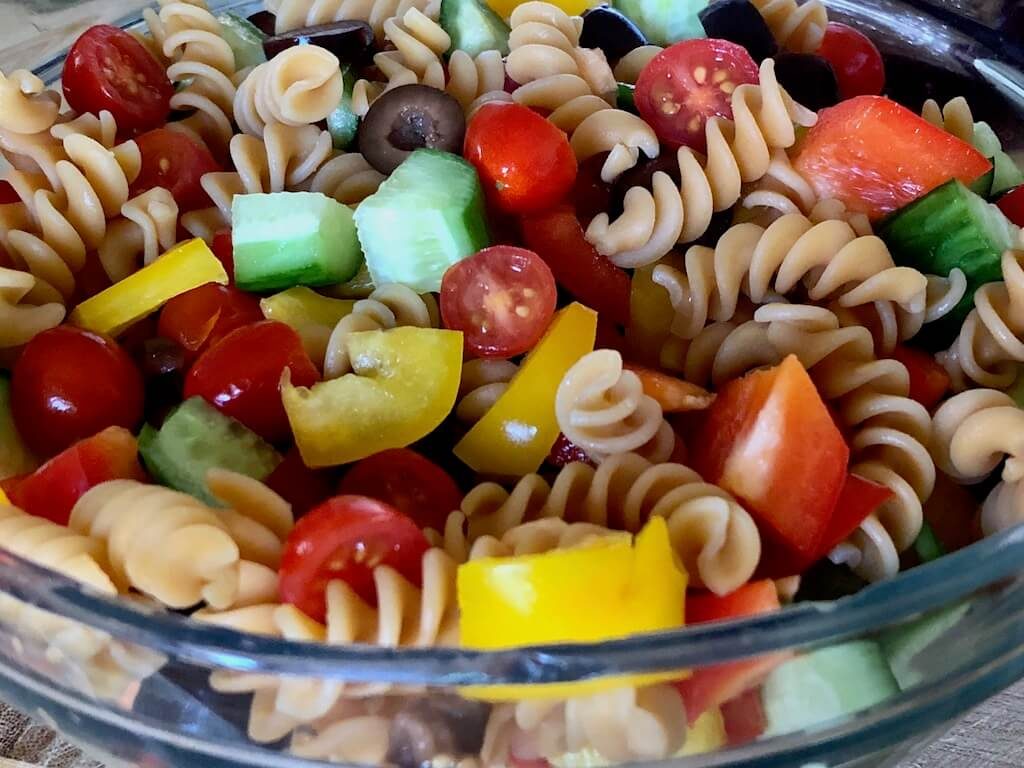 Any starchy pasta goes well with this salad.
Ingredients (Pasta):
16 oz dry pasta (wheat, brown rice, or garbanzo)
2 Tbsp extra virgin olive oil
2 large sweet bell peppers (any combination of red, yellow, and orange), seeded and diced
2 cucumbers, seeded and diced
½ cup grape tomatoes, sliced in half
1/2 cup sliced olives
Ingredients (Vinaigrette):
4 Tbsp extra virgin olive oil
2 Tbsp apple cider vinegar
⅛ tsp sea salt
Freshly ground black pepper to taste7
Instructions:
Boil the pasta according to the instructions on the package. Do not overcook.
When done, drain cooking liquid and place in a large serving bowl. Douse with olive oil to help prevent the pasta from sticking.
To make the dressing, mix oil and vinegar into a small bowl, adding in Italian seasoning, salt, and pepper.
Combine dressing into serving bowl with pasta, mixing well.
Add vegetables: peppers, cucumbers, tomatoes, and olives.
Serve either at room temperature or chilled.
Make Fruit Salad: Use Seasonal Fruits Such As Berries, Nectarines, And Watermelons

Fruit Salad
Fruit salads are very popular, particularly with kids. A fun fruit salad recipe made of seasonal summer fruits, such as blueberries, raspberries, and strawberries, can also be very refreshing.8
Ingredients:
2 cups of strawberries, sliced in half
2 cups blueberries
1 cup raspberries
2 cups red grapes
3 kiwis, sliced
2 mangos, diced
Instructions:
Place the fruit into a large bowl. Gently toss with spoon.
Serve.
Nectarine Salad
Nectarines are one of the quintessential fruits eaten during the summer. They make a wonderful fruity addition to a salad, as they are low in fat, sodium-free, low in calories, and rich in vitamins A and C.9 Enjoy this nectarine salad.
Ingredients (Salad):
1 Tbsp olive oil
1/2 cup kale, chopped
2 green onions, thinly sliced
1/4 tsp kosher salt
2 ears corn, cut off the cob
1 nectarine sliced into 1/4-inch-thick wedges
1/2 cup cherry tomatoes, cut in half
1/2 avocado, thinly sliced
Ingredients (Dressing):
1 lime, juiced
1 Tbsp extra-virgin olive oil
Dash of sea salt
Dash of freshly ground black pepper10
Instructions:
In a large, non-stick skillet, heat olive oil over medium-high heat.
Cook kale, green onions, and salt for 3-4 minutes or until the kale has wilted.
Transfer to a large serving platter.
Toss corn, nectarine wedges, cherry tomatoes, and avocado slices over the kale and green onions.
Dress with fresh-squeezed lime juice and extra-virgin olive oil. Sprinkle with sea salt and black pepper.
Watermelon Salad
Watermelon salad is so simple to make and includes some zesty herbs for exciting flavor.
Ingredients:
8 cups seedless watermelon (cut into 1-inch cubes), from a 6-pound melon
1/4 cup fresh-squeezed lime juice
Pinch of cayenne pepper
1/2 cup mint leaves, torn
Dash of sea salt11
Instructions:
Toss the watermelon into a large bowl, and mix with the lime juice and cayenne pepper.
Add the mint leaves to the mixture, sprinkle with salt, and serve.
Great Summer Salads: Versatile and Adaptable
The best summer salads are versatile and adaptable. Whether you start with a base of green leafy veggies or work with pasta, you can easily toss in additional seasonal vegetables as you see fit. Make this summer all about eating as much fresh produce as possible.
Learn More:
Vegan Instant Pot Recipes: Quick And Easy One Pot Recipes For Plant-Based Eating
Check Out These Delicious Fruit Infused Water Recipes: Healthy Drink Options
Common Vegan Diet Nutritional Deficiencies (Plus Ways To Get More Vitamins)

Sources
1 https://pubmed.ncbi.nlm.nih.gov/16963344/
2 https://www.cdc.gov/pcd/issues/2014/13_0390.htm
3 https://www.asouthernsoul.com/tomato-cucumber-salad/
4 https://www.thespruceeats.com/balsamic-tomato-salad-1763165
5 https://www.gardeners.com/how-to/potato-varieties/7556.html
6 https://minimalistbaker.com/simple-french-style-potato-salad/
7 https://www.chewoutloud.com/easiest-summer-italian-pasta-salad/
8 http://www.jandjfoods.com/list-of-peak-seasons-for-fruits-and-veggie
9 https://nutritiondata.self.com/facts/fruits-and-fruit-juices/1962/2
10 https://mealthy.com/recipes/844/summer-corn-and-nectarine-salad
11 https://www.foodandwine.com/recipes/watermelon-salad-mint-and-lime