Making fruit infused water recipes is an excellent way to stay hydrated and avoid unhealthy drink options. Not all people like the taste of plain water. So, rather than guzzling juices, sodas, or other sweetened beverages that are high in sugar, drinking water infused with fresh fruit and some vegetables is a refreshing alternative.
Try out these tasty infused water recipes for a healthy drink alternative. These fruit-infused water ideas are simple enough for you to make at home.
Infused Water: A Tasty And Nutritional Powerhouse Of Herbs, Citrus, Vegetables, And More
Why is infused water healthier than simply purchasing store-bought flavored water? The benefits of infusing your own water with fruits, vegetables, and herbs include:
Choosing your own fruits, veggies, and herbs to infuse.
Naturally consuming more vitamins, minerals, and antioxidants while you drink water.1
Keeping yourself hydrated by encouraging you to drink more water overall. 2
A number of ingredients taste great infused with water. And they also have excellent nutritional profiles:
Spearmint contains dietary fiber, vitamin A, vitamin C, calcium, iron, magnesium, and potassium. 3
Herbs, in general, provide antioxidant effects due to their high concentration of phenolic acids and flavonoids. 4
Cucumbers contain fiber, are high in vitamins C and K, and low in sodium.5
Lemons contain phytonutrients that may help prevent cell damage from oxidation. They're also high in vitamins C and B6, and they contain acids that help break down foods.6,7
Citrus fruits, in general, contain ample amounts of potassium, folate, calcium, thiamin, niacin, vitamin B6, phosphorus, magnesium, copper, and a host of phytochemicals. 8
Strawberries contain ample amounts of vitamins C and K, as well as phytonutrients and flavonoids. Their fiber may help promote healthy blood sugar levels.9
Watermelon contains the phytochemical lycopene, a powerful antioxidant. It's also a very good source of vitamins A and C.10,11
Looking For A Healthy And Tasty Alternative To Your Usual Soda? Try This Delicious Fruit Infused Water Recipe
It is well-understood that sodas, both diet and regular, aren't great for your health.12 A tasty way to drink more water exists in the form of fruit-infused water.
Infused water recipes can be whipped up very quickly. Here are a couple basic ones to get you started:
Ingredients
½ cup chopped or sliced fruit (strawberries, watermelon, and lemon)
1 cup fresh herbs
4 cups water
Instructions
Gather strawberries, watermelon, and lemon into a large container with a lid.
Fill with water, tighten the lid, and gently shake the contents.
Allow to infuse for 5-8 hours. Leave in sunlight for a stronger infusion and in the fridge for a milder infusion. 13
Just about any herb can be used. These include: anise hyssop, apple mint, basil, calendula, chamomile, chives, dill, marjoram, mint, oregano, parsley, peppermint, rosemary, sage. spearmint, and thyme.14
Another possibility is this yummy strawberry, basil, and lemon recipe:
Ingredients
1/2 cup strawberries stemmed and sliced, fresh or frozen
5 large fresh basil leaves, torn
1 lemon, thinly sliced
5 cups water15
Instructions
Add all the ingredients into a large pitcher.
Fill the container with water. Infuse until your desired taste is met.
Remove strawberries, basil, and lemon, and serve with ice.
Note: Always remove the fruits, vegetables, and herbs after infusing the water. Once they start decomposing, you may end up with the taste of undesirable flavors in your drink.16
Lemon, Cucumber, And Mint-Infused Flavored Water: High In Vitamin C, Potassium, And Antioxidants
Lemon, cucumber, and mint make for an especially delicious infused water recipe.17 It's an excellent substitute for citrus-flavored diet soda or other artificially-flavored beverages. Furthermore, if you have an herb garden, you may already have a steady supply of mint. As mentioned above, the ingredients in this infusion are high in vitamin C, potassium, and antioxidants.
Ingredients
4 cups water
1 lemon, thinly sliced
1 English cucumber, peeled and thinly sliced
10 mint leaves
Instructions
Add all the ingredients into a large pitcher.
Steep overnight.
Remove mint, lemon, and cucumber slices from the water and serve with fresh lemon as a garnish.
Don't Forget To Use Plenty Of Herbs In This One: Strawberry And Rosemary Flavored Water
This refreshing drink uses strawberries, rosemary, and mint.
Ingredients
4 sprigs fresh rosemary
1 sprig of thyme
¼ cup fresh mint leaves
2 cups fresh sliced strawberries
Ice cubes
Instructions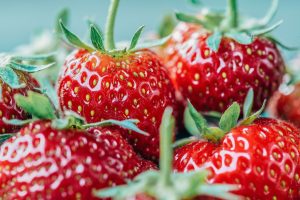 Bring 3 cups of water to a boil in a saucepan.
Steep the thyme and 3 sprigs of rosemary for 3-5 minutes.
Remove from the heat and cool to room temperature.
Add the strawberries and refrigerate.
Remove the rosemary sprigs and transfer to a pitcher.
Add ice and garnish with the remaining rosemary sprig.18
A Fan Favorite: Infuse Water Overnight With Raspberries, Orange Slices, And Mint Leaves
Ingredients
1 orange, sliced
8 raspberries
¼ cup fresh mint
4 cups of cold water (or substitute with cold coconut water)
Instructions
Place the orange slices, the raspberries, and the mint in a large glass water bottle.
Pour the water (or unsweetened coconut water) into the jar, and close the lid.
Allow the ingredients to infuse for 3-5 hours.19
If you're planning to store this water for a day or two, discard the fruits and mint.20
Enjoy A Refreshing Drink And Have Fun Infusing
Having a drink of infused water can enliven a boring glass of water. It provides hydration, nutrients, and flavor.
Try these recipes, and experiment even more using the ingredients above. If you really want to get fancy, you can purchase an infuser. This way, when you drink your water, you can remove the infused fruits, vegetables, and herbs with ease.
Happy infusing.
Learn More:

Sources:
1. https://pubmed.ncbi.nlm.nih.gov/27109905/
2. https://www.msn.com/en-in/health/fitness/11-health-benefits-of-cucumber-water-you-should-know/ar-BBNS06N
3. https://nutritiondata.self.com/facts/spices-and-herbs/226/2
4. https://www.ncbi.nlm.nih.gov/pmc/articles/PMC6532192/
5. https://nutritiondata.self.com/facts/vegetables-and-vegetable-products/2440/2
6. https://health.clevelandclinic.org/7-reasons-to-start-your-day-with-lemon-water-infographic/
7. https://nutritiondata.self.com/facts/fruits-and-fruit-juices/1937/2
8. http://www.fao.org/3/x2650t/x2650t03.htm
9. http://bbcgoodfood.com/howto/guide/ingredient-focus-strawberries
10. https://agresearchmag.ars.usda.gov/2002/jun/lyco
11. https://nutritiondata.self.com/facts/fruits-and-fruit-juices/2072/2
12. https://www.ncbi.nlm.nih.gov/pmc/articles/PMC4446768/
13. https://leitesculinaria.com/104784/recipes-how-to-make-infused-water.html
14. https://leitesculinaria.com/104784/recipes-how-to-make-infused-water.html
15. https://www.culinaryhill.com/8-infused-water-recipes/
16. http://www.infusedwaters.com/faq
17. https://www.whattheforkfoodblog.com/2014/07/17/cucumber-lemon-mint-infused-water/
18. https://www.rachaelraymag.com/recipe/breathe-easy-pineapple-rosemary-water
19. https://www.thepetitecook.com/orange-raspberry-detox-water/
20. https://www.thepetitecook.com/orange-raspberry-detox-water/