Is breakfast the most important meal of the day? Many people would say yes. Others might opt to skip breakfast in the hope of shedding some pounds. That's not a good idea.
Let's explore the importance of a healthy and well-balanced breakfast – even if you're trying to lose weight.
Eating Breakfast Is Important: Why You Shouldn't Skip Breakfast
When the word breakfast was first coined, it went straight to the very point of this meal – "break fast." You are literally breaking your overnight fast with this meal. And in doing so, you're setting yourself up for the entire day ahead.
Today, evidence favors the importance of breaking your nightly fast. Here are some of the biggest benefits of eating breakfast.
It Gives You A Daily Energy Boost
During a long night's sleep, your body and brain are deprived of fresh fuel. You don't want to start a brand new day running on empty energy reserves – especially if you want to be efficient at work or have any kind of physical activity planned.
A good breakfast that is loaded in nourishing vitamins, minerals, and antioxidants fantastic way to start the day.1
It Can Support Healthy Weight Loss
A study published in the journal Obesity found that people who ate breakfast as their primary meal of the day lost an average of 17.8 pounds and three inches from their waistlines over three months. Researchers found they were more likely to lose weight than those who ate large dinners instead.2
It May Help Support Healthy Hearts And Blood Sugar
One study that followed men between the ages of 45 and 82, found that skipping breakfast was associated with high blood pressure, insulin resistance, and elevated blood sugar.3
Observational studies on women's health showed that women who didn't eat breakfast daily were at a higher risk of developing chronic high blood glucose levels as compared to those who ate breakfast every single day.4
It Might Help You Take In More Essential Vitamins And Minerals
If you start the day with a well-rounded nutrient-rich meal, you set yourself up for a nutritious day ahead. A Korean study found that eating breakfast enhanced subjects' overall diet quality for the entire day. The intake of daily key nutrients was notably lower in the "rarely ate breakfast" group.5
It Could Support Focus and Clarity
When you sleep, your brain uses stored energy to repair itself. By morning, it needs replenishing.
In one pediatric study, evidence found that middle-school students who ate breakfast every day had better attention, concentration, and memory – and achieved better results at school – than those who ate breakfast only sometimes, or never.6
What About Intermittent Fasting?
If you're following the concept of intermittent fasting, you can actually have your fasting and eat breakfast too. When you fast matters. Research suggests that fasting in the evening and overnight and then eating an early, nutritious meal can have profound benefits, including:
Supporting healthy blood sugar
Supporting more efficient weight loss
Better nutrient intake
Improved energy and focus
A Little Goes A Long Way: A Light Breakfast For Better Diet Health
One of the most common reasons given for why people skip breakfast is that they're just not hungry. But you should try to eat something light and full of nutrients anyway. Even a small breakfast can make big waves if you choose the right foods.
A hearty breakfast doesn't have to mean a large breakfast. What it really entails is something that is wholesome and substantial enough to break your fast. This can be something as simple as a nutritious smoothie or specially-formulated breakfast drink.
Easy, Light, Wholesome Food Choices To Fuel Your Day
Here are five light, nutritious, and easy breakfast ideas.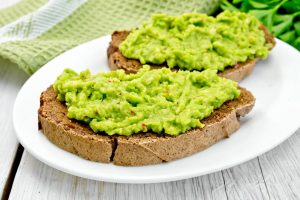 1. Avocado Toast – It's hipper than ever, and avocado toast is a great breakfast choice. It's also far less expensive to make at home. Choose a whole grain bread, toast it, and slather it up with heart-healthy avocados.
2. Nut Butter Toast – Nut butters are packed with protein, so they make a great toast-topper. Spread some almond butter or peanut butter across whole-grain toast and top with sliced banana. Or, if you're not up for toast, simply dip banana or apple slices into nut butter.
3. Quick Breakfast Smoothie – It'll take you less than five minutes to blend together some frozen fruit (handy to keep in your freezer) with nut milk. You can always add a dash of your favorite protein or morning drink powder as well. Or try a peanut butter, maple, and banana smoothie instead.
4. Quinoa Porridge – Make a big batch of quinoa porridge for the week by combining quinoa, your choice of non-dairy milk, and some cinnamon, nutmeg, and cardamom in a pot. Bring the mixture to a boil. Let it simmer until soft, then top with fresh fruit.

5. Quick Egg Muffins (+ Vegan Version) – Speaking of prepping for the week ahead, these healthy muffins are a real treat. Whisk eggs or vegan eggs with your choice of "filling" – spinach, tomatoes, or peppers are all great choices. Then pour the mix into muffin tins, bake for 15–20 minutes at 375 °F, and you're done. Store them in the fridge, and then zap in the microwave for breakfast on your way out the door.
If you don't have time to cook in the morning or just prefer a quick and easy breakfast, try a specially formulated breakfast drink for a nourishing start to your day.
The Health Benefits Of Morning Eating Habits
So, is breakfast the most important meal of the day? Yes. So much research supports it. If you're truly trying to follow a healthy, well-balanced diet, don't skip breakfast. Instead, drink or eat something that has a high nutritional value and is low in sugar.
The thing is, once you've had a good breakfast, you'll feel more energized and will be less likely to overeat at your next meal – lunch. And even if you do eat breakfast regularly, don't skip lunch in favor of dinner. Skipping meals tends to lead to unhealthy snacking and eating more calories per day.
Boost those energy levels from the time you wake up, and sprint into your day in an optimal state by consuming a healthy, wholesome breakfast. Then continue that pattern right through lunch and dinner.
Learn More:
Cool Down With This Amazing Coffee Popsicle Recipe
Make Your Own Cultured Coconut Yogurt (It's easy!)
What a Simple Glass of Lemon Water Can Do

Sources
1.https://www.health.harvard.edu/staying-healthy/4-ways-to-boost-your-energy-naturally-with-breakfast
2. https://www.sciencedaily.com/releases/2013/08/130805131011.htm
3. https://www.ncbi.nlm.nih.gov/pmc/articles/PMC3797523/
4.https://academic.oup.com/ajcn/article/98/2/436/4577233
5.https://www.ncbi.nlm.nih.gov/pubmed/22125684
6.https://www.ncbi.nlm.nih.gov/pubmed/18948652