When I'm at work, I drink a lot of water and green tea… but I'll admit, I can't start my day without coffee.
Now, it's not because I need the caffeine. I just love the way it tastes (and smells). In fact, the smell of coffee in the mornings is one of my earliest, fondest memories… because every morning, before we woke up, my dad would start a pot of coffee… and by the time we woke up, the smell just FILLED the house. It's still my favorite way to wake up.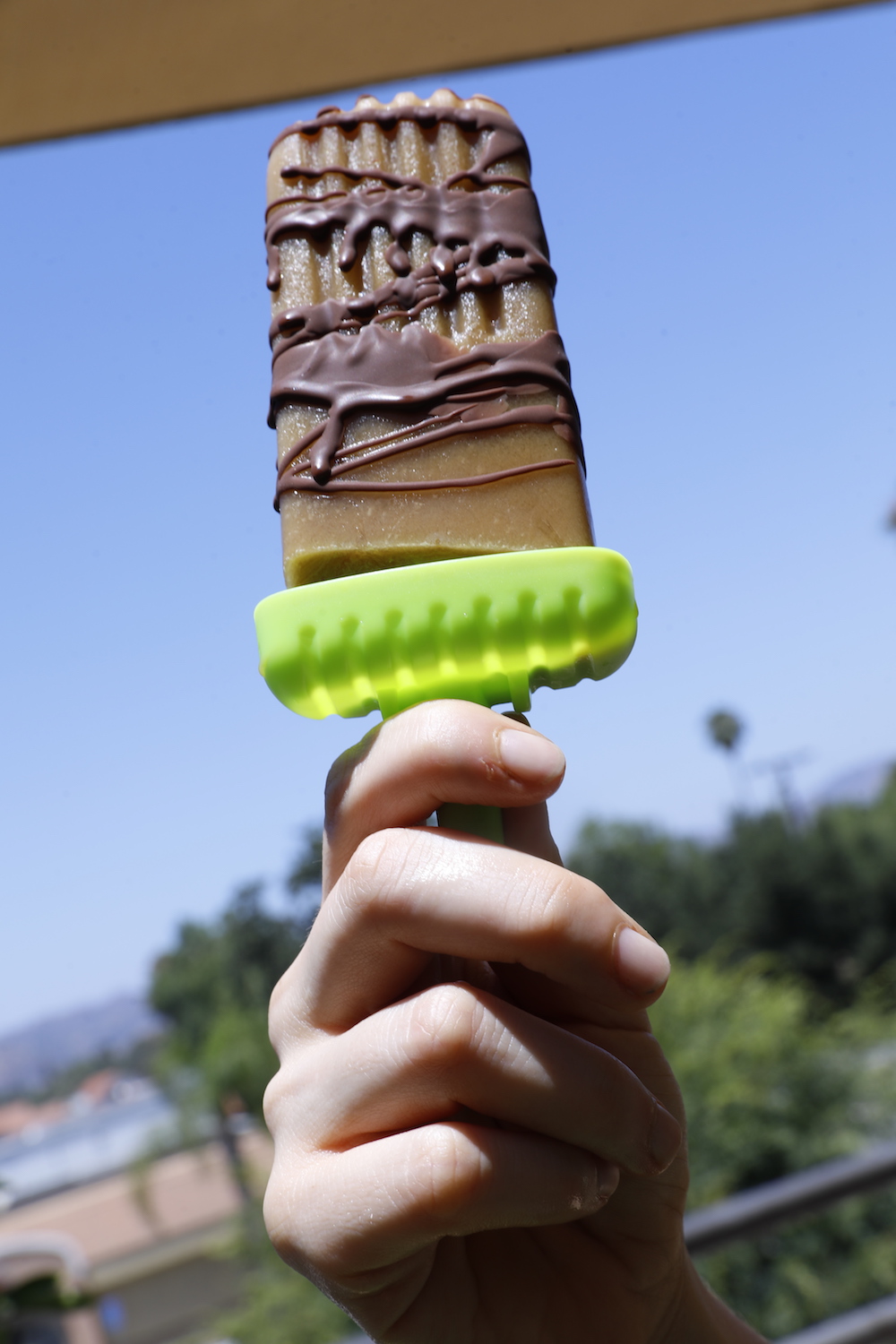 But we're in the middle of a HUGE heat wave here in California — I'm talking lows in the high 90s… and high temps well over 100. Let's just say… a hot drink right now does NOT sound appealing. Or it didn't, until I was making warm-weather treats with the kids yesterday — their favorite popsicles…
And I realized — popsicles aren't just for kids… and you can make them out of just about anything. So I grabbed the spare popsicle mold, a bit of coconut milk, and the rest of my coffee…
And this morning, instead of sweating it out with a hot cup of joe, I had "dessert" for breakfast…
It was awesome!
Now, I know you may also be dreading hot days ahead… so I wanted to make sure to share the recipe for my grown-up "mocha pops" with you right now… that way, you can start tomorrow morning with a sweet "pick-me-up" or enjoy a refreshing treat after a long day in the sun.
Not a coffee drinker? Make sure you read to the end for 3 DELICIOUS variations — not a coffee bean in sight!

Good Morning Mocha Pops
Ingredients:
1 cup strong black coffee
1 cup full-fat coconut milk
4-5 drops liquid stevia
½ tsp vanilla extract
¼ cup chopped chocolate
1 Tbsp coconut oil
Instructions:
In a large measuring cup, combine coffee, coconut milk, stevia, and vanilla extract.
Let cool to room temperature if the coffee is still warm, then pour into popsicle molds (or small paper cups).
Freeze for at least 2 hours, or up to overnight.
Right before serving, melt chocolate and coconut oil together in the microwave. Stir until smooth.
Remove ice pops from molds, and drizzle with melted chocolate mixture. The chocolate will set on contact.
I've decided to keep a batch of these in my freezer this summer— because they're a great way to use up the last little bit of coffee in the machine… and if you're starting the day with a popsicle, it kinda feels like you're on vacation… even if you have to go to work after you finish it.
So give it a try… or try turning your favorite drink into a popsicle, and let me know how it turns out.
And — stay cool out there!
P.S. Not a coffee drinker? Here are 3 delicious, creamy, dairy-free pops to try.
Vanilla Cream: Use 2 cups coconut milk, the liquid stevia, and the vanilla extract. If you want to get really adventurous, add diced fruit before freezing.
Chocolate: Use 2 cups of coconut milk, ¼ cup of cocoa powder, and a little extra stevia. Freeze until solid.
Green Tea: Use 2 cups of coconut milk, a tablespoon of matcha powder, and a bit more stevia than the original recipe called for. Freeze plain or with fruit.
Or, if you're feeling adventurous enough to create your own recipe, reply to this email and tell me about it! I'd love to give your recipes a try, too.