Last Wednesday, at the farmer's market, I got a HUGE surprise…You see, I was out shopping for some fall fruits and vegetables – I was really in the mood for some brussels sprouts, squash, and pears.
But when I got to my favorite vegetable stand, I was shocked. No, they weren't out of brussels sprouts… but they were selling them on the stalk.
(They're not native to Brazil, so I'd never seen them growing this way!)
But I had a craving to make a brussels sprouts recipe, so I bought a couple of stalks – and once I trimmed the sprouts off with a sharp knife, they were easy to cook. In fact, they were the sweetest, most tender sprouts I've made in a long time.
Not only that, but brussels sprouts are a wonderfully nutritious part of a healthy diet. Now, I'll tell you more about that in a minute… but first, I want to share a brussels sprouts recipe – for the dish I made last night:
Maple and Apple Brussels Sprouts Recipe
This recipe is the perfect fall side dish – flavorful, well balanced, hearty, and really easy to make. It comes together quick enough for a weeknight, and it's "special" enough that you can serve it on your holiday table – so make sure to save this recipe!
Ingredients (Serves 6-8)
¼ cup balsamic vinegar
½ tsp sea salt
1 apple, cubed
2 pounds brussels sprouts, trimmed and quartered
1 red onion, thinly sliced
Instructions:
Preheat oven to 450 degrees Fahrenheit.
In a large bowl, whisk together the olive oil, balsamic vinegar, sea salt and maple syrup.
Add apple, onion, and brussels sprouts, and toss to combine
Spread into a single layer on a sheet tray, and cook for 5 minutes.
Toss using a spatula, and cook for an additional 5 minutes. Serve and enjoy!
Nothing like a really satisfying 10-minute side dish…
And if you want to make it a full meal, consider adding some toasted hazelnuts for protein and crunch! But what is it about this brussels sprouts dish that makes it so healthy?
It's the brussels sprouts, of course!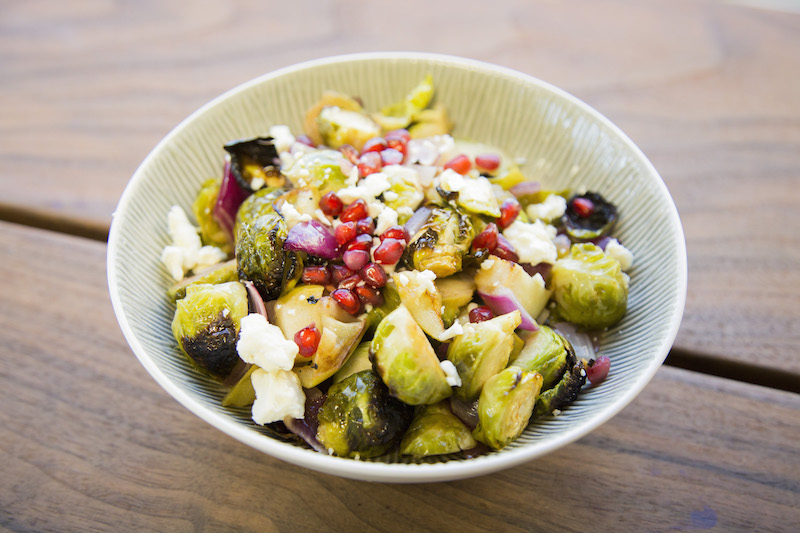 Brussels sprouts are a member of the cruciferous vegetable family, like broccoli, cabbage, and cauliflower… and they've got some great health benefits.:
Brussels sprouts are rich in vitamin K, which helps keep your bones healthy – key for an active lifestyle!
They're high in vitamin C, which plays a key role in healthy immune function. And that's extra important at this time of year (with cold and flu season right around the corner).
They're loaded with fiber, to help support gut health and keep your digestion running smoothly.
They're a vegetarian source of ALA fatty acids – which are important for brain health and function.
Did you know Brussels sprouts have 4.1 grams of fiber per cup after they're boiled?
They also have massive levels of vitamin C and K, just like their cousin broccoli. Another fantastic nutrient they contain is folate, which is a B vitamin.
But, when you're cooking your brussels sprouts, make sure that you don't overcook them, because you run the risk of losing some of their nutritional value if you do. The best way to cook these cruciferous veggies is to steam them. That way, they keep their essential nutrients, like glucosinolates, which can affect the pace of your metabolism. Other forms of cooking brussels sprouts include microwaving, roasting (like for this recipe!), and stir-frying.1
But in my opinion, the best reason to eat brussels sprouts is….
They're delicious, and easy to cook! When you've got a food that meets both of those criteria… it makes it even easier to eat healthy.
And that's ALWAYS a good thing.

Sources:
1.https://www.ncbi.nlm.nih.gov/pmc/articles/PMC2722699