First Time Customer? Enter your email address to join the ActivatedYou® Newsletter and receive an exclusive first time customer offer.
ActivatedYou Blogs
Latest in Nutrition
Calcium is an essential nutrient for your health, especially for strong bones and teeth. Your body doesn't naturally produce calcium, so it's important to choose healthy calcium sources as part of a balanced diet. Many people don't consume enough of this vital...
read more
Calcium is an essential nutrient for your health, especially for strong bones and teeth. Your body doesn't naturally produce calcium, so it's important to choose healthy calcium sources as part of a balanced diet. Many people don't consume enough of this vital...
read more
For vegans, vegetarians, and others following a plant-based diet, it can be a challenge to find satisfying foods that are rich in iron. This essential nutrient is a component of hemoglobin, a protein that helps bring oxygen into the body from the lungs, and also of...
read more
Learning how to get back on track with diet and exercise can be challenging at first. But if you've slipped, don't beat yourself up. A lot of people, even those extremely committed to a healthy lifestyle, can gain a little weight from time to time. They might not...
read more
Many people experience occasional bloating. This full feeling may come with an indulgence in food, digestive troubles, or the onset of a woman's menstrual cycle. More people are reporting incidents of recurring bloating. Keep reading for some tips and tricks to beat...
read more
Interested in eating more meat-free meals? These vegan Instant Pot recipes are a great place to start. They offer up something for long-time vegans and beginners alike. So, whether you're just starting your vegan journey or an avid plant consumer, you're bound to find...
read more
Making fruit infused water recipes is an excellent way to stay hydrated and avoid unhealthy drink options. Not all people like the taste of plain water. So, rather than guzzling juices, sodas, or other sweetened beverages that are high in sugar, drinking water infused...
read more
Why should you make space for more vegan spaghetti squash recipes in your cooking arsenal? Not only is spaghetti squash a tasty way to serve up your daily portion of vegetables, but it's also an innovative way to cut back on carbs. You're still getting that pasta-like...
read more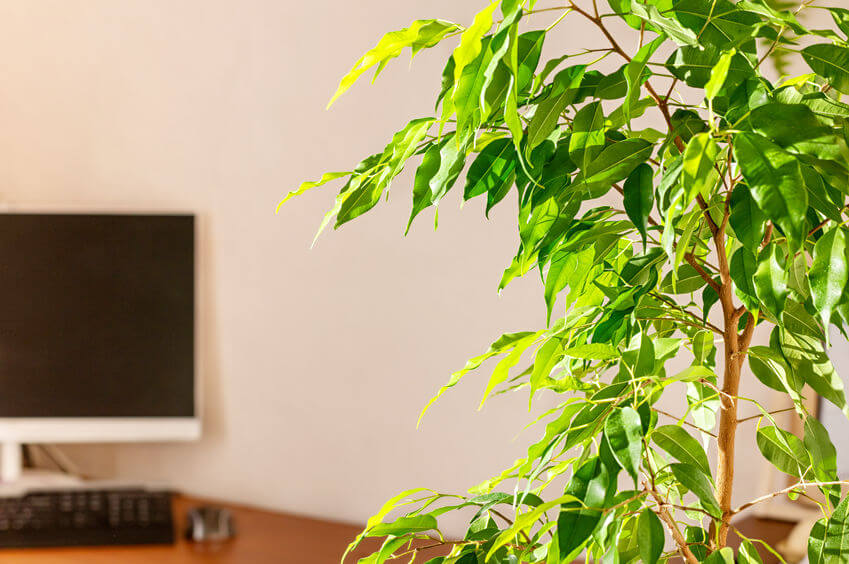 Staying healthy often depends on eating a responsible diet and getting regular exercise, but it's easy to forget that your environment is a vital component, too. The air quality in your home and workplace can be harmed by Volatile Organic Compounds (VOCs) such as...
read more
Working from home can create extra time and space for focus. But, working remotely also comes with its own set of challenges for you and your fellow employees. Distractions and communication gaps can make it tricky to accomplish goals. Fortunately, there are helpful...
read more
As much as we hate to admit it, convenience is the driving force for many of our daily decision-making processes. But this doesn't have to be a bad thing. Technology has given individuals the opportunity across the world to act smarter, not harder. For example, when...
read more
Of all the leafy greens people eat, spinach is one of the most popular. It goes great in lots of dishes and can even be eaten raw. Aside from all its culinary uses, it also boasts a long list of potential health benefits. Learn more about these health perks and other...
read more
Spring is almost here. Soon, flowers will burst forth, and the world will come to life again. This is great news for you and your kitchen. The spring harvest provides all sorts of vegetables and fruits for a delight of vegan spring recipes. Below you can find a few...
read more
All of the food you eat brings a story to the table. Green beans are no exception. These tiny green marvels aren't just packed full of tastiness. They also have a long history filled with lots of fun facts. Read on to learn some interesting green bean facts and how...
read more
Are you juice-curious but not sure where to start? Juicing fruits and vegetables can seem like a complicated ordeal. Which fruits and veggies should you use, and how the heck do you make it taste good? Grab some inspiration from these simple juice recipes that are...
read more
Figuring out how to choose a yoga mat? If you're serious about your yoga practice, investing in your own mat is certainly a step in the right direction. But as you'll soon find that as you search for yoga mats in stores and online, it seems that not all mats are...
read more
The best thing about vegan dessert recipes is that they're not only delicious, they're also incredibly easy to make. Vegans and non-vegans alike will love them – and they'll also be eating healthy in the process. Even better, you have a lot more options than you might...
read more
Most of us know that physical fitness is good for us. We read about the positive effects of exercise all of the time. We feel much better when we do it. But even with that knowledge and first-hand experience, it can be difficult to find the motivation. The most common...
read more
Curious about kimchi health benefits? It seems there could be more to this tasty classic Korean dish than its signature smoky and spicy flavor, which admittedly can be a bit of an acquired taste. Learning more about the potential benefits of kimchi could make you a...
read more
Bloat, flatulence, cramps, bowel movement irregularity, abdominal pain — Americans know digestive troubles all too well, with up to 70 million dealing with disorders related to their gut.1 The function of your gastrointestinal (GI) tract — to absorb nutrients and...
read more
If you're vegan or vegetarian, you've probably been asked time and time again "What are you going to do for protein?" The reason being is that many people are unaware that plant-based protein exists. The truth is, many plant-based foods can provide excellent protein...
read more
Whether you're planning to start a new workout routine or you're a seasoned gym-goer, having the right gear can make all of the difference. Owning a unique gym bag that's organized with all of the essentials can help give you that last push you need to get out of the...
read more
You start out by dreaming of it. Then you decide to book your ticket. And until you leave, all you can think about is how wonderful it will be to escape and finally unwind. But, sometimes vacationing can come with certain challenges – especially if you have dietary...
read more
Wondering if meal prep is worth the extra effort? It just might be. Once you look beyond all the colorful quinoa bowls and salads in mason jars posted on social media, you'll realize that meal prepping is more than trendy. It's quite a nifty life hack. If you're short...
read more
Since the early days of gym class, you're taught the importance of exercise. But, how often do you hear about the importance of rest and recovery after you exercise? Chances are, not that often. However, rest and recovery after strenuous training can be just as...
read more
Whipping up some vegan Valentine's chocolate can help make sure that no one, regardless of chosen diet or lifestyle, misses out on one of the most romantic holidays of the year. And while there are lots of ready-made vegan treats you can purchase, there's something...
read more
Looking for a 30 day wellness challenge to help you create good habits? By making one tiny change per day, you can overhaul your life. What Is Wellness? Maybe you've tried a 30 day fitness challenge or a mental health challenge before, but you're unfamiliar with...
read more
While walking can be described as moving one leg in front of the other, optimal walking posture involves a bit more than that. From how you hold your head to how you roll your feet can determine if you are activating or releasing the correct muscles and putting...
read more
Yoga has been practiced for centuries, and along with it is the practice of controlling the breath or pranayama. With prana translating to "life force" and ayama to "extension" from Sanskrit.1 However, even though the breath is a vital part of yoga, it is something...
read more
Figuring out what to do on rest days is just as important as nailing a solid workout routine. In fact, planning your rest days should be a considerable part of creating an exercise plan that works for you. This is because contrary to what you may think, taking the...
read more
Do you love to dance? Dance is not only fun, but it's a great way to stay in shape. If you don't like to exercise or take fitness classes, dancing can be an excellent physical activity that doesn't feel like a workout. Many find it much more fun than more traditional...
read more