First Time Customer? Enter your email address to join the ActivatedYou® Newsletter and receive an exclusive first time customer offer.
ActivatedYou Blogs
Latest in Nutrition
What is yin yoga? Even if you're well-versed in other forms of yoga, you might not be familiar with regular yin yoga. This type of yoga can help you develop a more well-rounded, balanced approach to the practice of yoga, or help deepen your meditation practice. You...
read more
What is yin yoga? Even if you're well-versed in other forms of yoga, you might not be familiar with regular yin yoga. This type of yoga can help you develop a more well-rounded, balanced approach to the practice of yoga, or help deepen your meditation practice. You...
read more
It's time to settle the great pilates vs yoga debate. If you're considering adding either of these to your fitness routine, you'll want to learn the primary differences between yoga and pilates. While they can seem similar at first glance, each exercise program...
read more
It's definitely inspiring (and not to mention relaxing) to witness the grace and power of aerial yoga – enough that you might want to start an aerial yoga practice of your own. Learning more about the whole concept of aerial yoga fitness could help you muster up the...
read more
If you're considering exercise regimens that won't put too much stress on your body, you may want to consider adding tai chi to your list. This exercise is known for its easy-going nature, but tai chi also packs in plenty of potential benefits for the mind...
read more
Is a prebiotic diet important for the health of your digestive system? You've probably read or heard a lot about probiotics, the "good" bacteria that support gut health, but you might not have given a lot of attention to prebiotics. But although prebiotics might not...
read more
If you haven't given a lot of thought to bitter melon health benefits, it might be time to give this vegetable/fruit hybrid some consideration. Bitter melon has a long history of use in alternative medicine and is also sometimes used in traditional medicine. This...
read more
With its vivid purple flowers and sharp, spiky leaves, milk thistle seems to both beckon and push you away. But this prickly little plant is far more than an eye-catching addition to the garden – milk thistle benefits have been praised for centuries. But what does...
read more
Can you make a delicious sugar free ice cream recipe right in your kitchen? Sure you can -- whether you have an ice cream maker or not. With just a few pantry staples, you can have healthier homemade ice cream stocked up in your freezer for a guilt-free pick-me-up...
read more
If you simply must start your day with a dose of caffeine, perfecting the art of the homemade vegan latte should be high-priority on your list. You'll still get your brewed coffee or iced coffee fix. But unlike a traditional latte, with a vegan latte recipe, you'll be...
read more
You've likely heard about the "sunshine vitamin," better known as vitamin D. Vitamin D's importance cannot be overstated. Up to 50% of The U.S. population may be affected by vitamin D insufficiency.1 How you manage your vitamin D intake, whether through...
read more
It's the sweet days of summer, and the flowers are in bloom. There is no better time to experiment with a new salad idea than summertime. Here are some summer salad ideas to help make unique summer salad recipes. With so many seasonal options available this time of...
read more
The evidence is clear: practicing yoga is beneficial for health, both physical and mental. Researchers have found that regular yoga practice can do more than support flexibility and strength. It may also help support your health and help encourage mindful...
read more
Fermented foods may not have the most delicious-sounding name, but their benefits certainly make up for it. Here you'll learn more about the health benefits of fermented foods and why you should add them to your diet. Probiotics 101 Let's first delve into the term...
read more
What are some of the most common vegan diet nutritional deficiencies? A plant based diet can provide all essential nutrients if you eat the right healthy foods. Most people's biggest worry when starting a vegan diet is that they'll miss out on essential nutrients....
read more
Calcium is an essential nutrient for your health, especially for strong bones and teeth. Your body doesn't naturally produce calcium, so it's important to choose healthy calcium sources as part of a balanced diet. Many people don't consume enough of this vital...
read more
For vegans, vegetarians, and others following a plant-based diet, it can be a challenge to find satisfying foods that are rich in iron. This essential nutrient is a component of hemoglobin, a protein that helps bring oxygen into the body from the lungs, and also of...
read more
Learning how to get back on track with diet and exercise can be challenging at first. But if you've slipped, don't beat yourself up. A lot of people, even those extremely committed to a healthy lifestyle, can gain a little weight from time to time. They might not...
read more
Many people experience occasional bloating. This full feeling may come with an indulgence in food, digestive troubles, or the onset of a woman's menstrual cycle. More people are reporting incidents of recurring bloating. Keep reading for some tips and tricks to beat...
read more
Interested in eating more meat-free meals? These vegan Instant Pot recipes are a great place to start. They offer up something for long-time vegans and beginners alike. So, whether you're just starting your vegan journey or an avid plant consumer, you're bound to find...
read more
Making fruit infused water recipes is an excellent way to stay hydrated and avoid unhealthy drink options. Not all people like the taste of plain water. So, rather than guzzling juices, sodas, or other sweetened beverages that are high in sugar, drinking water infused...
read more
Why should you make space for more vegan spaghetti squash recipes in your cooking arsenal? Not only is spaghetti squash a tasty way to serve up your daily portion of vegetables, but it's also an innovative way to cut back on carbs. You're still getting that pasta-like...
read more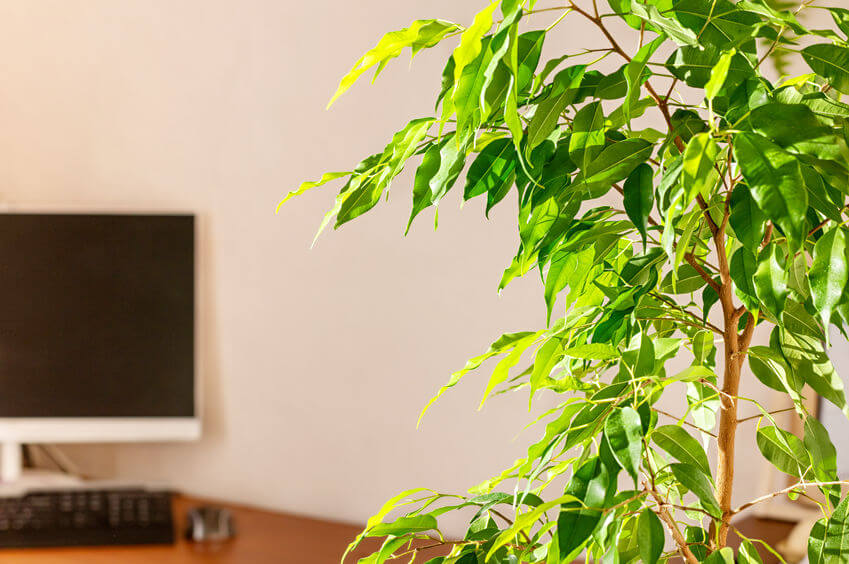 Staying healthy often depends on eating a responsible diet and getting regular exercise, but it's easy to forget that your environment is a vital component, too. The air quality in your home and workplace can be harmed by Volatile Organic Compounds (VOCs) such as...
read more
Working from home can create extra time and space for focus. But, working remotely also comes with its own set of challenges for you and your fellow employees. Distractions and communication gaps can make it tricky to accomplish goals. Fortunately, there are helpful...
read more
As much as we hate to admit it, convenience is the driving force for many of our daily decision-making processes. But this doesn't have to be a bad thing. Technology has given individuals the opportunity across the world to act smarter, not harder. For example, when...
read more
Of all the leafy greens people eat, spinach is one of the most popular. It goes great in lots of dishes and can even be eaten raw. Aside from all its culinary uses, it also boasts a long list of potential health benefits. Learn more about these health perks and other...
read more
Spring is almost here. Soon, flowers will burst forth, and the world will come to life again. This is great news for you and your kitchen. The spring harvest provides all sorts of vegetables and fruits for a delight of vegan spring recipes. Below you can find a few...
read more
All of the food you eat brings a story to the table. Green beans are no exception. These tiny green marvels aren't just packed full of tastiness. They also have a long history filled with lots of fun facts. Read on to learn some interesting green bean facts and how...
read more
Are you juice-curious but not sure where to start? Juicing fruits and vegetables can seem like a complicated ordeal. Which fruits and veggies should you use, and how the heck do you make it taste good? Grab some inspiration from these simple juice recipes that are...
read more
Figuring out how to choose a yoga mat? If you're serious about your yoga practice, investing in your own mat is certainly a step in the right direction. But as you'll soon find that as you search for yoga mats in stores and online, it seems that not all mats are...
read more
The best thing about vegan dessert recipes is that they're not only delicious, they're also incredibly easy to make. Vegans and non-vegans alike will love them – and they'll also be eating healthy in the process. Even better, you have a lot more options than you might...
read more