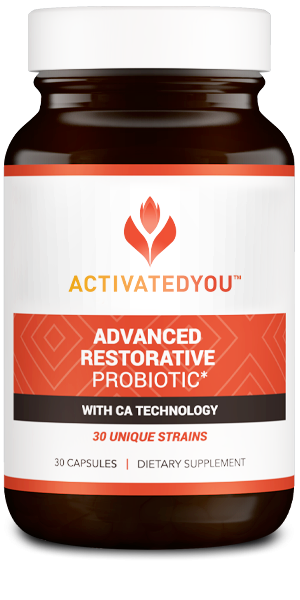 ActivatedYou™ 
Advanced Restorative Probiotic
 264 Reviews
IT WORKS!  
"I've been using activated you for about a week but I can already see a difference. I have a lot of yeast in my body and with this pill that has stopped. I'm also regular which has never happened in my older years. I believe in this product and I'm definitely ordering more!"

*Results may vary
I'm taking them for about 2 weeks the bloating is gone and I go to restroom everyday now that's a total blessing  
"I love it so much I feel great"

*Results may vary
ActivatedYou  
"I really had a problem in my gut. I stayed bloated, I had pain in my stomach. I went to the doctor and I told them I took all kinds of laxative and nothing would help. then the doctor said my bowels was locked up and they gave me some more stuff but it did not help me. and I was happen to be on Facebook and I saw Maggie talk about what she was going through and I ordered the product and now my gut is back to normal. I am able to go to the restroom three time a day and some day four time a day. Thank you. Thank you. Thank you."

*Results may vary
Wonderful!  
"I never leave reviews! But I really felt I needed to do that this time. After watching the informercial on FB I got "sucked IN" only to find out this is one of the best products I have ever tried! I'm a huge health fanatic and thought nothing else could be better in my life…until I started to take this! everything they say about this product is true I am so happy! Better digestion better bowel movements less bloating less cravings no joke this product is amazing !"

*Results may vary
Miracle  
"This product has changed my life. I have had problems going #2 since I can remember and it did not change when I would change my diet or ate more fibers or even while trying out new probiotics. I was skeptical and now I am a client for life. Thank you so much!"

*Results may vary
First Probiotic gentle enough to take daily, stops cravings & energizes like nothing else!!  
"Thank you Maggie and Activated You!! This is the FIRST Probiotic I can tolerate/does not cause me nausea. Not only that, but I have more energy than EVER before, am calm and regular and feeling like my very BEST for the FIRST time since I can remember/my whole life–as I'd always struggled with gas, and some sort of lack of appetite and cravings for starches-which often zapped my energy. Thanks to Activated You, my energy is balanced and only craving nutritionally dense REAL food and loving the ease of this health PERFECTING miracle of a supplement!!! I would love to take this all the time and thank you for making this ALL possible–I'm more GRATEFUL than words!! :)"

*Results may vary
Amazing product  
"I have used it for one month and my God it works. I have told all my friends and family. Bowel movement every day, miracle for me. Thank you for making this amazing product."

*Results may vary
Best Probiotic  
"I have just ordered my third bottle. I have suffered with stomach discomfort for many years now. Menapause just made the symptoms worse. There were days where I was a full size larger from excessive bloating. This product is amazing. I saw and felt a difference within the first few days. I highly recommend."

*Results may vary
A MIRACLE!!  
"I have had severe bloating & problems with my stomach for about 15 years. I've had Drs. give me every pill possible. To slow down the movement of my stomach. To speed up the movement of my stomach. Then the Dr. even suggested I take both pills together. HA!! I've tried sooo many probiotics. NOTHING has made a difference until this miracle of a pill!! I'm beyond elated. I've had several friends try it & they feel the same way. My bloating is gone. I no longer look 4-5 months pregnant by 4:00 in the afternoon. Or have problems feeling like a balloon is swelling up in my stomach. Try this ASAP!!! You'll be as happy as I am!!!"

*Results may vary
Can't wait to try this product out!!!!  
"♡♡♡♡ LOVE it!!!"

*Results may vary